Five Mistakes You're Making While Shopping
Can't find anything is the store, I don't believe it, I know they are likely just guilty of the five most common mistakes...
People are often surprised when I tell them that I buy almost all of my kid's clothes at our local Salvation Army Family Store. They'd be even more surprised if they knew how many of my own clothes came from there. Or how many toys, books and household items I've scored for a fraction of their normal retail price. Usually, people tell me that their local store doesn't have any good items, but I don't believe it. I know they are likely just guilty of the five most common mistakes people make when shopping for secondhand items.
How do I know these are common mistakes? I've made them all myself…multiple times!
You're probably making them too, so here are five things to avoid the next time you go out searching for a bargain.
1. Not having a list to go by.
I can't tell you how many times I've wandered the aisles of our local Salvation Army Family Store and felt like there was nothing there I needed or wanted. Why? Because I wasn't looking for anything with a purpose! I do so much better if I keep a list of items that I'm looking for, either in my phone or written down, so I can review it before going in and keep my eyes focused for those items.
For example, if I keep in mind that I want a picnic basket for the summer, I might score it for cheap in February
Not only am I more likely to find something I need, but when I'm intently looking rather than lazily scanning aisles, I'm a lot more likely to find surprise items I never knew I needed but now can't live without!
2. Passing up items that look a little dirty.
Most people aren't going to scrub toys or ice cream makers before tossing them into the donate pile when they are doing their spring cleaning. It can be off-putting if items look dingy or messy at first, but most things are actually pretty easy to clean. You'd be surprised how many things you can clean and sanitize in your dishwasher, for one thing! Easy-peasy! Not to mention when I break out the big guns
Plus, these stores see a lot of traffic and sometimes things get dropped on the ground by busy workers and shoppers. I can't tell you how many times I've picked up a shirt or a dress to try on and there's a big dusty spot on the bottom. Just do a quick inspection to see how deep the mess seems to be. Occasionally, I've seen things that are genuinely stained (especially baby clothes–darn spit up!) But, most of the time, it will wash right out.
3. Not trying things on.
The best thing about bargain hunting at secondhand stores is the ability to find awesome, even designer items, for super deep discounts. But, even if you score something at a fraction of the price, it isn't really saving money if you get it home and it won't fit. And while guys can usually get away with not trying on a t-shirt they finds with their favorite sports team logo on it, trying things on is so important most of the time! Keep in mind these items have been worn and washed, so even if something is in your size, it might have shrunk, stretched out, or modified. Our Family Stores have dressing rooms. Use them!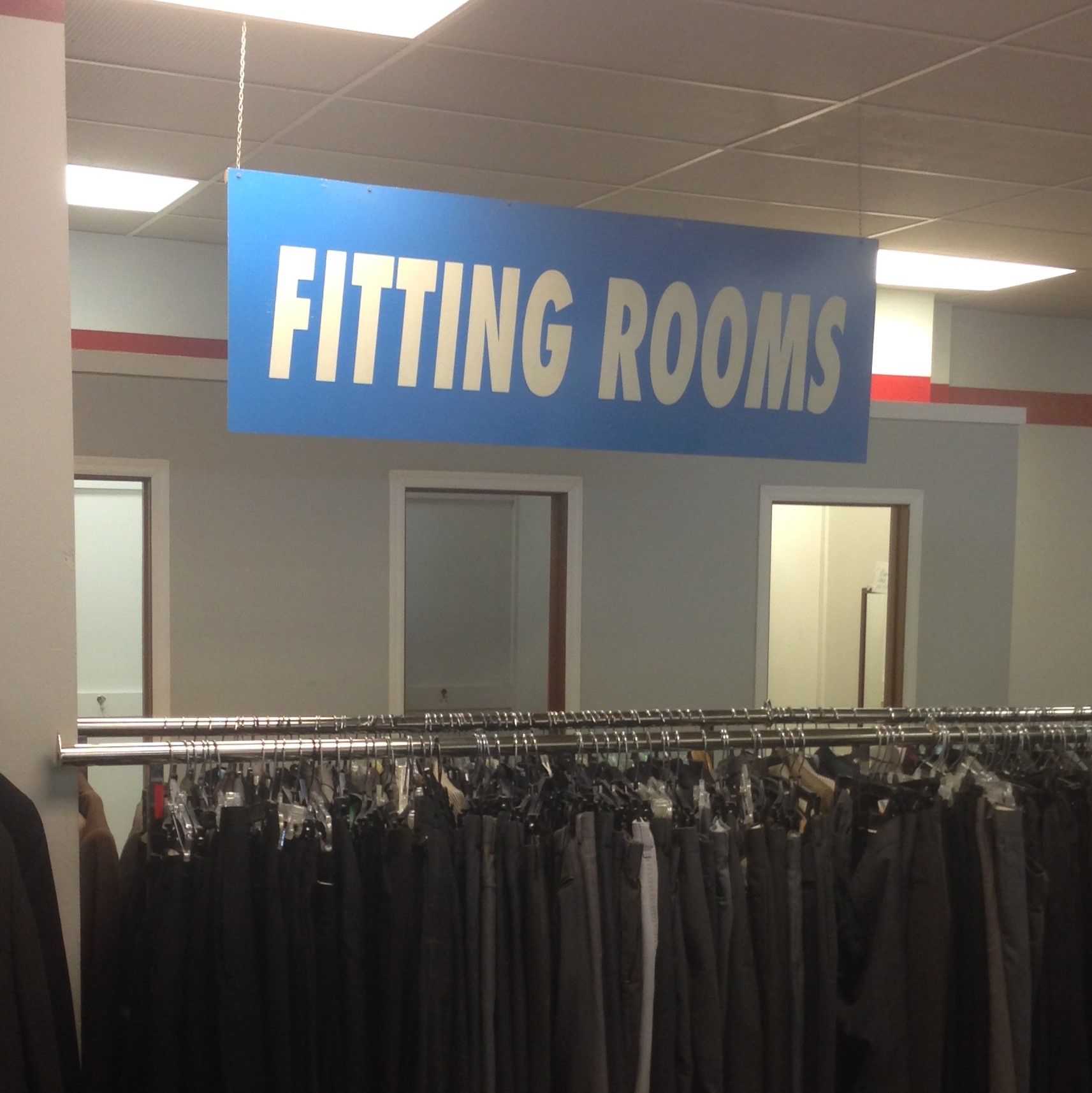 4. Forgetting about sales.
Salvation Army Family Stores have sales every day. Usually, there are a bunch of things at various discounts and the best way to get a good deal is to look for those items as you shop. But sometimes, I forget things. I'm sure that never happens to you… Anyway, I've found it's easiest to snap a photo of the sign on my way into the store and then I can refer to it as I shop! Sometimes, I even get questions from other shoppers about the sale and this helps me answer them accurately. Plus, there's nothing like finding a great item and then realizing it's on sale, right?
5. Rushing through the store.
I don't always go through the furniture section or the knick-knack sections, but sometimes, there are some great steals there!
And for those who like crafts, not forgetting to check the linens for things like adorable pillow cases that can be made into so many things, like these adorable little girl's clothes!
So, now that you know the mistakes to avoid, I know that you will be able to score big.
Tags:
Blog